The Blue Sky 365 team is driven by strategists, production professionals, writers, designers, photographers, color specialists, and other talented people. Our continued success is due to our interesting clients and projects, and a team of talented creatives that are always looking to improve their skills, innovate, and effortlessly immerse themselves with current pop culture and the latest trends. Our agency began its innovation and production services in 2001.
Meet a few of our key creative team members

Strategy|Digital Content Producer
Peter Sabbagh is Lead Strategist|Content Producer of Blue Sky 365, where he spearheads the company's creative operations. Based in Blue Sky's Ann Arbor office, he is actively involved in defining and shaping the agency's core disciplines, including content strategy, producing, user experience, client services, and technology.
Peter joined Blue Sky 365 in 2001, and since then he has played a critical role in directing the growth of the company. He has also led some of Blue Sky's's largest initiatives for clients including Flint Inc, MSX International,  TV Celebrities from Food  and Bravo TV Networks, American Museum of Natural History, music entertainment clients performing with artists on the Roc Nation, Sony, Def Jam, Taylor Gang and Maybach Music labels, published authors, Start-ups, Legal Practices, and others.
He is also a writer with online publications BlogCritics.com and Enzine.com.
Prior to working at Blue Sky 365 he worked globally for an IT consulting company as Vice President of International Marketing. Clients included, Merck Pharmaceutical, Ebay, Sun Micro Systems, Pfizer Pharmaceutical, IBM, JP Morgan, Chase, Merrill Lynch, PNC, Oracle, Society General, ADP, and Air Products. He received a BFA in Film, and MA in Political Culture studying at  New York University and Harvard University. He lives in Ann Arbor, MI with his wife and two sons.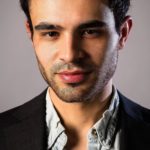 Director of Strategy & Technology
Elliott Sabbagh (DJ Ell) began his career in the music and marketing at age 14. He has worked in the music industry for the past 10 years in audio post-production, FM radio, marketing, and concert and corporate DJ gigs both in the U.S. and in Europe. With a BA in Music Business/ Management from Berklee College of Music in Boston, and an MA in Innovation and Production from Berklee, Boston and Valencia, Spain. Elliott has worked on both sides of the industry as a performer, touring with some of today's top commercial and pop artists, and from the backend of the music business industry in sound engineering and production. Elliott has technical expertise in the music industry as a recording and production engineer, business strategist, and music producer.
Aside from his work within the industry, Elliott co-hosts an FM radio show since 2008 and has hosted workshops and lectures at schools and organizations including MIT, Harvard University, University of Michigan, and community and teen centers across the United States.
Design Director
Sheraine Kay Dhondy has worked in the design industry for the past 17 years. She has been a design Consultant to the Smithsonian Institute, worked on designs for Lucas Films and Walt Disney, and presented lectures at the American Museum of Natural History in Manhattan and the New York Public Library. She is also a global speaker and expert on color and trends. Kay is an outspoken advocate for using color to advance the user experience and affect our emotional environment. Kay is a design graduate of Pratt University, NYC.
Social Responsibility and Community Service
We also think that local communities can benefit greatly from social responsibility through individual volunteerism. Profit alone is not our mission. Our team actually volunteers at non profits regularly rather than only donating money. We believe that this level of commitment to our community is as important as donating money directly.
Our philosophy, Change The World To Better Suit your World!
Non Profits that our team works with are:
Foodgatherers
National Reading/Writing
Habitat for Humanity
Breast Cancer – American Cancer Society